North Carolina abortion: 12-week ban likely despite governor's veto threat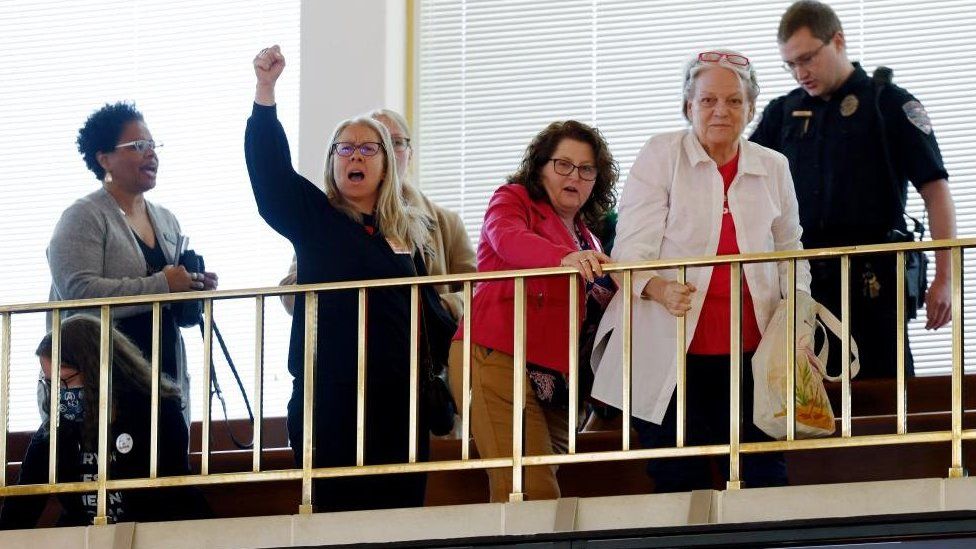 North Carolina Republican lawmakers have passed a law that would ban abortion after 12 weeks of pregnancy.
Republicans hold supermajorities in both chambers of the statehouse, meaning they can override a veto threat from the state's Democratic governor.
The move comes as conservatives move to strip away abortion rights after the Supreme Court ended the nationwide right to abortion in June.
Near-total abortion bans have been passed by 14 states after the ruling.
Currently, abortion is banned in North Carolina after 20 weeks of gestation.
The Care for Women, Children and Families Act was passed by the state Senate 29 - 20 along party lines on Thursday, one day after the state House of Representatives passed it along similar party lines.
Protesters shouting "abortion rights now" were cleared from the Senate chamber by police as the vote was held.
The legislation now goes to Governor Roy Cooper, who has vowed to veto "this extreme ban".
"This bill has nothing to do with making women safer, and everything to do with banning their reproductive freedom," the governor tweeted on Thursday.
Republicans gained their veto-proof supermajority of both chambers last month after a Democrat who had previously vowed to protect abortion switched her party affiliation to Republican.
Congresswoman Tricia Cotham voted in favour of the bill after promising last year to "continue my strong record of defending the right to choose".
Despite the Republican supermajority, Gov Cooper on Thursday tweeted: "We only need one Republican in either the House or Senate to help sustain the veto of this dangerous abortion ban".
He appealed to voters to hold lawmakers that campaigned on protecting abortion access accountable.
Speaking to CNN, he said he would work to over the next week to try and gather support to uphold the veto.
The new ban contains exceptions in the case of rape and incest through 20 weeks of pregnancy, or in the event of a "life-limiting anomaly" through 24 weeks.
It also allows doctors to perform an abortion if the pregnancy threatens the life of the mother, and permits medical providers to refuse an abortion "on moral, ethical, or religious grounds".
It also requires a doctor to examine a woman in person before prescribing abortion-inducing medications and bans people from mailing the drugs to a pregnant person.
North Carolina has been a form of safe haven to women in southern states, which have mostly moved to ban the procedure.
In the two months after the Supreme Court's ruling, abortion rose by 37% in North Carolina - more than any other state - according to the Society of Family Planning, a non-profit that advocates for abortion rights and research.
The anti-abortion group Susan B. Anthony Pro-Life America has praised the North Carolina bill, saying it will "lessen abortion tourism in the state".
Meanwhile, the Food and Drug Administration's approval of the commonly used abortion pill mifepristone is being challenged in the lower courts.