Ukraine war: 'My brother saved my life - but lost his own'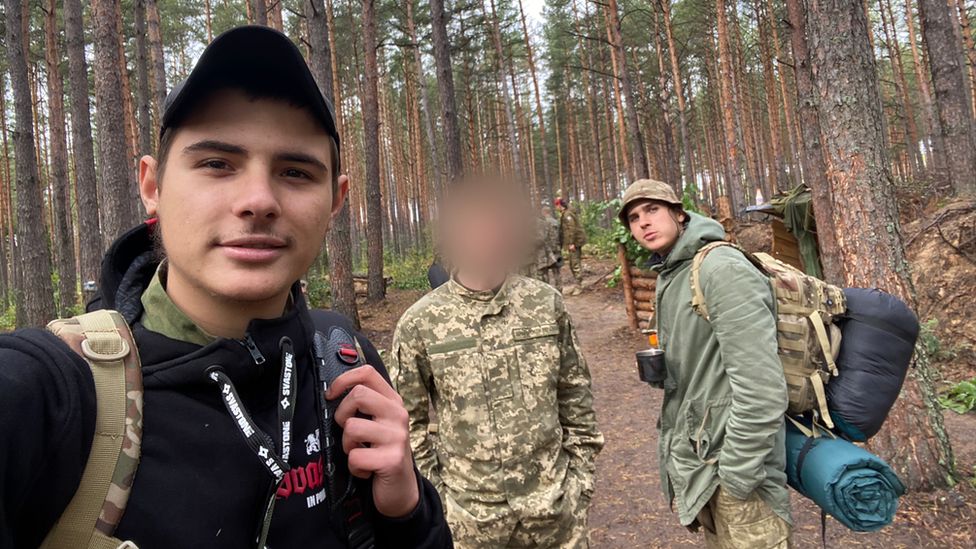 Maksym had been fighting for 200 hours without a break when he was killed by a Russian sniper in the city of Bakhmut.
"For eight days he did not eat, or sleep," his mother Lilia says. "He couldn't even close his eyes for five minutes because the sniper could shoot."
There's a reason why she now calls Bakhmut "hell". It's the city that took the life of one son and left her only other child seriously injured.
Her one scant comfort - that one died saving the life of the other.
Maksym and Ivan volunteered to fight when Russia invaded Ukraine last year. At the time Maksym was 22 years old and Ivan just 18.
Ivan, the younger brother who still carries the scars, says they were inseparable. "He was always with me and I with him. For me, he was the dearest person."
Ivan shows me videos and photos of them together - in a trench, in a military vehicle, trying to get some rest.
As time passes, you see two smiling, handsome young men change, gradually appearing wearier as war strips away their innocence.
Their last moments together were spent engaged in brutal house-to-house fighting in Bakhmut. "It was impossible to sleep there. We were being attacked 24/7," Ivan says.
The brothers' unit was trapped in a windowless room of a building. They'd had to punch through walls to make firing positions. That's when they received an order to pull back.
Ivan recalls the moment before he was wounded. "I remember I was reloading; I came out from behind a wall and there was a flash. I was paralysed and I fell."
He says he then felt the warmth of the blood flowing from his injuries to his face. He didn't think he'd survive. "I thought I was done; I'll bleed out and that'll be it."
But Maksym came running to his rescue and dragged him back inside a building for cover.
"He revived me, took out my broken teeth and began to give me first aid," says Ivan. That included piercing a hole in Ivan's throat to prevent him from choking.
Ivan shares a video of his brother tenderly wiping the blood away soon after the explosion. Another widely shared clip shows Ivan struggling to walk with a gaping wound to his face, but still clutching his Ukrainian flag: a symbol of bravery and resistance in the battle for Bakhmut.
Ivan has no doubts that he would have died if it weren't for Maksym's actions. "My brother didn't let me die. He saved me."
Maksym urgently called on the radio for help. But the first medics that tried to reach him were all killed in their vehicle when it was struck by a Russian anti-tank missile. It took another nine hours before Ivan could be rescued.
And then came Maksym's extraordinary act of self-sacrifice. Rather than travel with his brother to safety, he volunteered to stay in Bakhmut, to lead their unit.
Still fighting there a week later, Maksym was killed by a Russian sniper.
In Ukraine the funerals of soldiers are now as constant as the sound of artillery on the front line. But they're not all like Maksym's. Alongside his grieving family, the entire town of Tomakivka had come out to pay their respects.
They knelt as the funeral procession made its way to the cemetery - some clasping flowers or Ukraine's flag. The prayers and sombre music accompanied by tears and sobbing.
For the past year, Maksym and Ivan's parents had been living their sons' battles vicariously. Lilia and Serhii were having sleepless nights too - waiting anxiously to hear from their boys. They'd often receive a short text to reassure them, says Lilia - "We're good, mum."
But then came the news they'd been dreading.
Lilia weeps over Maksym's coffin before it's finally lowered into the ground - accompanied by a volley of gunfire. "We still can't believe it. My soul is torn," Lilia tells me after the funeral. She says her only reason to continue living is for her younger son.
She tells me Maksym had the chance to leave with Ivan, but he would not abandon their younger, less experienced comrades.
"He's a hero. He's an angel. He's sunshine. He would never leave his brother even though he knew he would die himself."
Ukraine won't say how many lives have been lost in this war. But look around the cemetery and you soon realise the entire country is paying an extremely heavy price.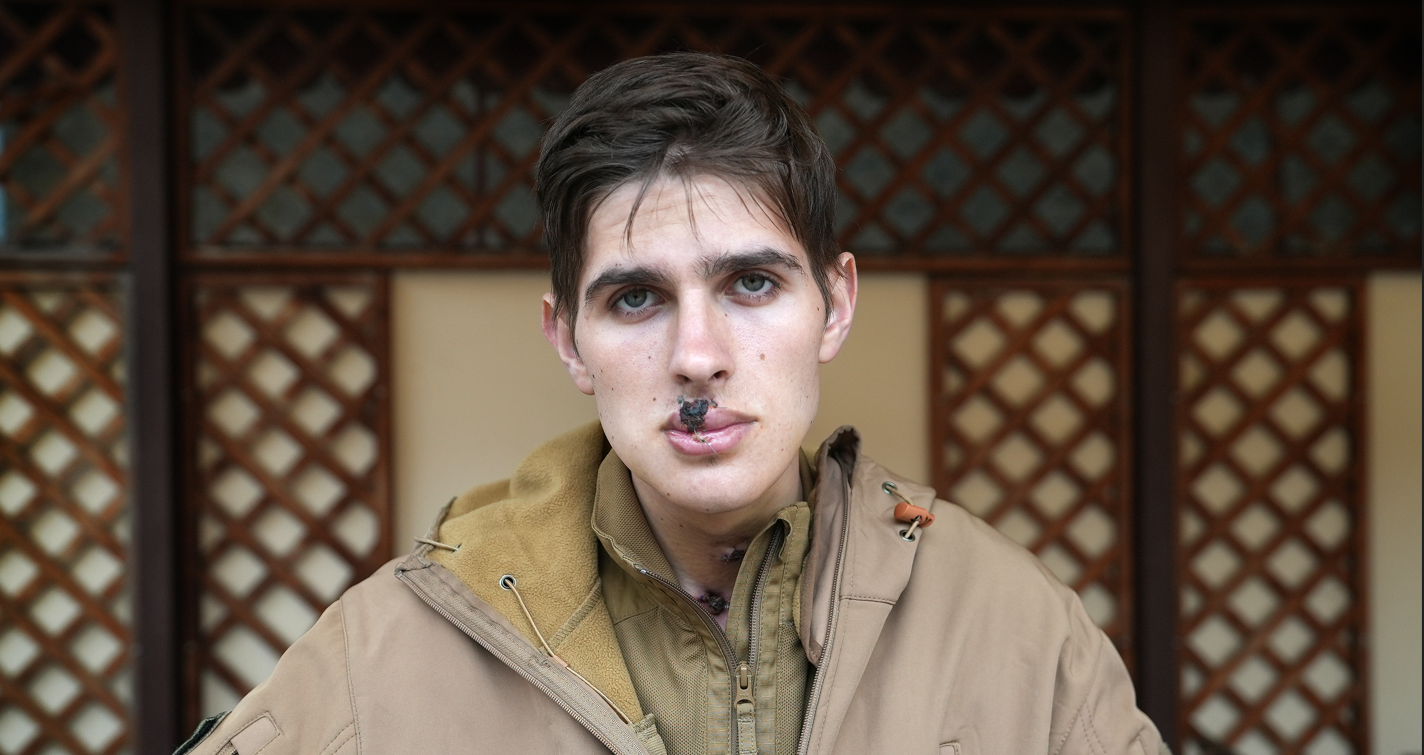 BBC
My brother gave his life for our freedom. Unfortunately, freedom comes with blood
At this one small graveyard, in this one small town, there are rows and rows of freshly dug graves surrounded by flowers. Maksym's was one of three soldiers' funerals the local priest was conducting that week.
For Roman, who was once himself a soldier before taking holy orders, it was harder than most. He is a family friend and prayed with Maksym and Ivan's parents for the safe return of their boys, whom he knew.
"You often have to bury soldiers," said Roman. "But not your friends."
At the funeral, Ivan is still clutching the Ukrainian flag which he carried when wounded - signed by his comrades including his brother. The blood from his own wounds staining the blue and yellow cloth.
I ask him if he now regrets his decision to join the army. He replies: "We understood that we might not return, but it's an honour to fight for Ukraine. That's why I don't regret it in any way.
"My brother gave his life for our freedom. Unfortunately, freedom comes with blood."