Turkish elections: Erdogan and Kilicdaroglu offer stark choices for presidency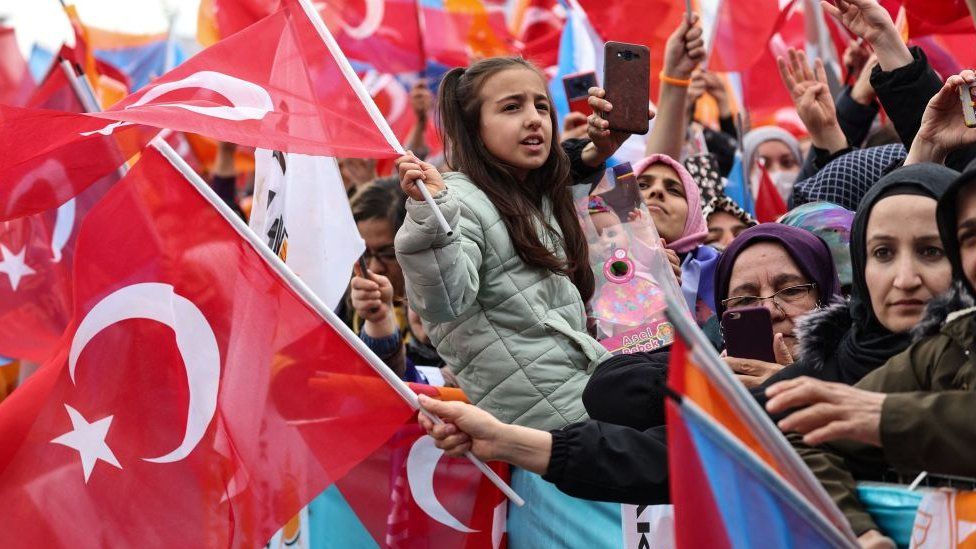 Turks are at a historic turning point - whether to keep their leader of more than 20 years or change to a more pro-Western path and roll back some of his sweeping presidential powers.
President Recep Tayyip Erdogan is favourite to win Sunday's run-off vote, and promises a strong, multilateral Turkey. He says opposition claims of a dictatorship are smear campaigns and pure nonsense.
His chief rival, Kemal Kilicdaroglu, backed by a broad opposition, has billed the vote as a referendum on the future direction of Turkey and has sought the support of nationalist voters to increase his chance of victory.
Big moment for Turkish rule
Since 2017, Mr Erdogan has run Turkey with extensive presidential power, from a vast palace in Ankara. As executive president he can declare a state of emergency and can pick or dismiss civil servants.
He accuses his opponents of being "pro-LGBT", while his Islamist-rooted party positions itself as on the side of the family and highlights its success in modernising Turkey.
If he wins on Sunday, not much will change, says Selim Koru, a member of Turkey's Tepav think tank. His powers are already so broad he won't seek to extend them further, he says.
But Alp Yenen, lecturer in Turkish studies at Leiden University, believes if Turkey's rampant inflation of more than 43% endures, the president's AK Party could accelerate what has been "a slow pace of authoritarianism".
The man seeking to replace Mr Erdogan wants to scrap the presidential system brought in five years ago and return to a parliament and prime minister in charge. Independent courts and a free press would follow.
The president would become apolitical and the other five parties in the Kilicdaroglu alliance would each have a vice president, along with the two centre-left mayors of Ankara and Istanbul.
But Mr Erdogan's party and its nationalist and conservative allies have secured a majority in parliament and if the opposition alliance were to win the presidency they might struggle to push through their reforms.
Turkey is part of the West's Nato defensive alliance, but the Erdogan presidency has sought close ties with China and Russia too, buying a Russian S-400 air defence system and inaugurating a Russian-built nuclear plant - Turkey's first - ahead of the election.
He advocates a multilateral stance, viewing Turkey as "an island of peace and security", and offering Ankara as a mediator in the Russian war in Ukraine.
His opponent and his allies, meanwhile, want to return to the process of joining the European Union and restore Turkey's military ties with the US, while maintaining relations with Russia.
If Mr Erdogan stays in power then Selim Koru believes he will continue to push Turkey away from the West, without leaving Nato. "He wants to get Turkey to a point in the medium term or distant future where Nato membership is irrelevant."
This election is being watched very carefully by 3.5 million Syrian refugees who have temporary protection in Turkey, because Kemal Kilicdaroglu wants to send them home fast.
That's a major worry for Syrians, who came here mainly in the first six years of the war until 2017.
Not least because, after the opposition leader trailed in the first round, he made refugees and irregular migrants the number one issue of his campaign. He needs the vote of almost 2.8 million Turks who supported an ultranationalist candidate in the first round.
He has accused President Erdogan of bringing 10 million migrants into Turkey, and he is talking about Syrians, but Iranians, Afghans and Pakistanis too.
More than 80% of Turks want the Syrians to go home, and yet more than 700,000 Syrians are in Turkish schools and 880,000 Syrian babies have been born in Turkey since 2011.
"I cannot understand how they would leave this life and go back to Syria," says Prof Murat Erdogan, who conducts Syrians' Barometer, a regular field study on Syrians in Turkey.
Kemal Kilicdaroglu says he will negotiate the Syrians' return with Damascus, but as Syria insists on Turkey leaving its 30km (18-mile) buffer zone over the border, that runs the risk of Syria launching attacks on the zone and sparking a new wave of refugees.
The opposition leader knows full well an agreement would take up to two years, and he would ask the United Nations to oversee it. But Murat Erdogan believes it could take a decade to implement.
President Erdogan has sought to defuse the issue, by promising to speed up the voluntary repatriation of a million Syrians through an agreement with President Bashar al-Assad. The idea of Syrians returning voluntarily seems far-fetched but Turkish state media reported that work on building 5,000 flats in Syria had already begun.
Turkey's Kurds make up as much as a fifth of the 85 million population and they have a big stake in this election.
The pro-Kurdish party, which attracted almost 9% of the parliamentary vote, publicly backed Kemal Kilicdaroglu for president and sees the vote as a historic moment to get rid of a "one-man regime".
President Erdogan has accused him of surrendering to the "blackmail" and agenda of both the pro-Kurdish party and PKK militants, who are seen by Turkey and the West as terrorists.
But Kurdish voters are alarmed the opposition challenger has aligned himself with a far-right leader on fighting "terrorism", because that usually refers to Kurdish militants.
Mr Kilicdaroglu has also agreed that Kurdish mayors can be replaced by trustees appointed by Ankara in so-called "terror" cases.
The pro-Kurdish party's co-chair Pervin Buldan has fully backed the opposition leader, but that does not mean all Kurdish voters will follow suit.
"Getting the nationalist vote is a possibility but there's a risk in losing the Kurdish vote - it's a delicate balance - how do you get them without losing Kurds?" asks Alp Yenen.
High inflation or orthodox economics?
Ahead of the first round it was the state of Turkey's economy that was foremost in voters' minds, before the refugee issue came to the fore.
Inflation is officially 43.68%, and Turks have had a cost of living crisis far more severe than most. Many will tell you the real inflation rate feels far higher.
The early Erdogan years were a byword for strong economic growth and enormous construction projects. And Turkey always stuck closely to the terms of its loan agreements with the IMF.
But in recent years his government has abandoned orthodox economic policy. It gradually eroded the independence of the central bank, sacking three of its governors in quick succession, says Selva Demiralp, professor of economics at Koc University.
Inflation soared, as interest rates were kept low - while Turkey's currency the lira depreciated to improve the trade balance and boost exports.
Mr Erdogan still promises high growth, six million new jobs and a big push for tourism, but Prof Demiralp believes his policies will keep inflation as high as 45% for months to come.
If Kemal Kilicdaroglu and his allies win the presidency and parliament, she believes a return to orthodox economic policies and an independent central bank will lower inflation to 30% by the end of 2023 and it will continue to go down after that.